Free shipping within the US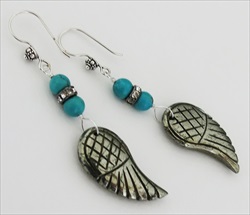 ---
Care for your handmade gemstone jewelry as you would any delicate keepsake. Don't sleep, swim, sunbathe or shower in your jewelry. It's also a good idea to not exercise (as in vigorous exercise) in your jewelry to minimize exposure to body oils and perspiration.
Wear your handmade jewelry often. It helps keep the silver from tarnishing. When you're not wearing your jewelry you can temporarily store it in a zip lock bag to minimize tarnishing. When needed you can polish your silver with a polishing cloth that you can purchase at most jewelry and department stores. I would try to avoid rubbing this cloth on the stones.
Most stones are quite strong, but try to avoid dropping or banging your jewelry against hard objects as the stones can crack or break. Don't leave your jewelry in direct sunlight. Some stones naturally fade in sunlight, and heat and sun can badly damage pearls and opals.
Store your handmade jewelry as you would any delicate item. Storing in the original box is good, or in a jewelry box. Don't let items bang into each other. Personally, I make a loose coil of my necklaces and keep each in a box lined with something soft, such as cotton or soft fabric. I put silver items in their respective boxes and then put the boxes in zip lock bags to prevent tarnishing. That's just my method. You can probably come up with a better one.
Keep chemicals such as perfume, lotions and make-up away from your jewelry. Apply cosmetics first, then put your jewelry on.
To keep your jewelry clean you can wipe your stones and pearls with a soft cloth, or you can use a damp cloth when needed. I strongly advise against immersing your jewelry in water. Never use harsh abrasives or cleaners, including chlorine, on your stones or pearls. I am of the opinion that ultrasonic cleaning is not a good idea for the kind of jewelry I make.
Most importantly, enjoy your jewelry!