Free domestic shipping on all orders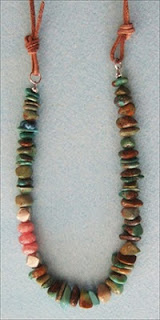 Hubei turquoise necklace
Anyone who has ever purchased turquoise jewelry from my web site or read any of my blogs about turquoise knows that I am crazy about turquoise from the American Southwest. There are many reasons for my passion:
1. It is a vanishing part of Americana. There is something so romantic, yet sad about that.
2. The people who mine the turquoise work very hard to retrieve the excellent quality turquoise that is out there, in mines where there is very little turquoise left. When you hold a piece of it you are holding something quite rare.
3. The two American mines that are still quite active produce some of the best turquoise in the world.
4. I am able to buy most of the turquoise directly from the miners and am able to talk to them about it - they're very knowledgeable. They are people of wonderful integrity and I greatly respect that.
5. American turquoise is just plain beautiful.
6. American turquoise is an investment in American history.
Because it is rare, American turquoise is expensive, however. Supply and demand.
For many years there was massive mining of turquoise in China. The best is from Hubei Provence in central China. The quality of some Hubei turquoise rivals that of American turquoise, and is less expensive. However, the Chinese government has halted the mining of turquoise in China. If this condition continues, the price of Chinese turquoise, including that from Hubei Provence, will rise as well. In recent months I purchased a small amount of Hubei turquoise so I could make turquoise jewelry using good quality turquoise that is less expensive than some of the rare turquoise that I've been using. I only have enough to make a few pieces of jewelry. There is one thing for sure about good turquoise - the value will only increase as it becomes more rare.