Closed due to the Wine Country Fires
$2.50 Flat Rate Shipping For All Orders Within the US
Click HERE for special offers.
We give back. Ten percent of our profits are donated to St. Jude Children's Research Hospital
Blog
Posted September 21, 2017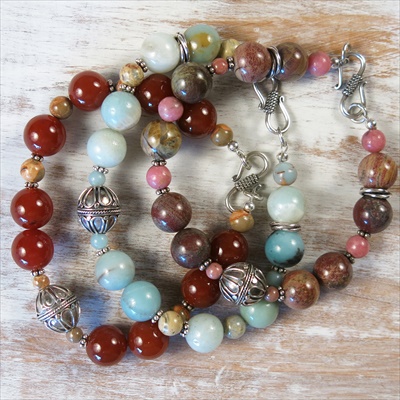 Personally I like the look of stacked bracelets. I also love gemstones. I recently made a few chunky gemstone stacking bracelets with amazonite, silver flake jasper and carnelian with Bali sterling silver. They look great together, are versatile and are very comfortable to wear. The larger beads are 10mm, which is hefty without being too heavy. They're gorgeous gemstones!
I have limited room on my web site to list items. I have other wonderful gemstones with which to make more bracelets like these. If you would like pictures of other available gemstones, let me know.